About Patrick Murphy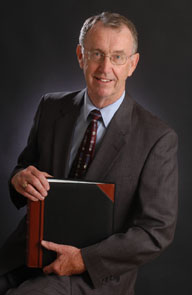 Pat Murphy's law practice has focused on planning for seniors and their familys for the past 15 years. His office is located across the Queensway from the YMCA.
Pat is Ottawa's first Certified Senior Advisor, counsel for the local Alzheimer Society for almost 30 years and is counsel for the Elder Abuse Consultation Team of the Champlain LHIN.
He has been a member of several networking groups with seniors influencers and has presented his trade-marked, tax-saving inspired "Family Will" Planning Process to many senior's organizations, Financial Advisors, Accountants, Charities, retirement residences, Advocis, the Canadian Academy of Seniors Advisors and at numerous Financial Plannersí Programs. Pat is an avid hockey fan and former coach.
Pat will inform you about how comfortable, semi-affluent persons can Leave More to Family and Leave less to the TaxMan using Wills with Testamentary Trusts, powerful Powers of Attorney and Pre-Arranging Probate.
Bernie Dueck and Jennifer Stiell, lawyers in Counsellor Law Offices are both members of the "Family Will" Planning team and may be consulted in Patrick Murphy's absence.